If you have been using OpenCart for your online store. You probably know how easy it is to integrate modules and extensions and upgrade your store. Without doing programming or hiring a developer to do it for you.
Today OpenCart is one of the largest e-commerce solutions companies proving e-commerce solutions for web & online stores. And it is recorded as responsible for 6.4% of the global e-commerce volume.
As per buildwith.com about 3,17,000 live website are on the internet on OpenCart Framework which is indeed a large number.
Hence has a lot of potential in the years to come and it won't disappear either. Today, we will talk about the best OpenCart extensions.
Here Is A List Of The 11 Best Extensions For OpenCart by TMD For Scaling An Online Store.
Scaling your OpenCart store is worth investing in if you know exactly what you are doing. The Following modules are some of the most preferred used modules on OpenCart. Enable these modules and increase the profitability of your store.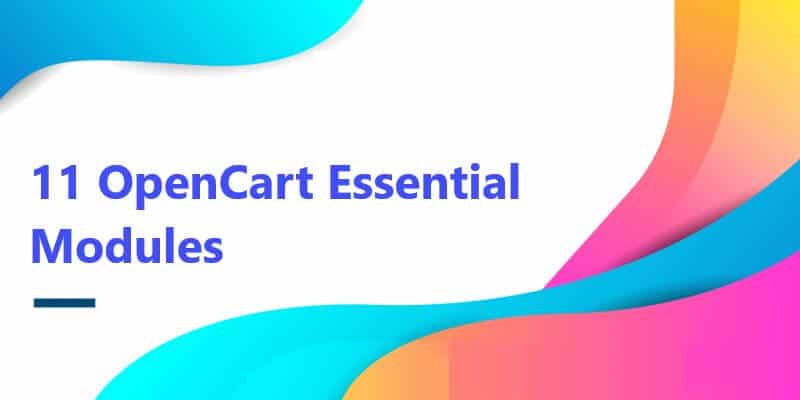 OpenCart Menu Menu also known as OpenCart mega header is an extended version of the website default menu where the layout of the menu is organized in a more effective way for customers to navigate among a large group of menus.
Often known as OpenCart mega menu extension, this Mega Menu is a multi-column version of the default menus normally available on any website. The majority of the website uses a mega menu module to get rid of a traditional simple look. This makes stand it among the best OpenCart extensions.
However, the opencart vertical mega menu allows you to add multi-column drop-down menus to your navigation also with media items such as images and videos.
It can also transform your default menu bar to a wide array of multi-columns that brings elegance and beauty to your OpenCart store. Mega Menu can show a lot of information like categories, products, and information pages. Offers, discount items, and a number of categories and sub-categories i.e multi-level menu related to your products in the store.
A customer can view a lot of information on the mega menu such as sale items.
Testimonial module is an OpenCart module and extension for adding elegant testimonials to your website on any page.
Termed as testimonials opencart 3, this is an important part and parcel of any online store to present client testimonials on your website.
This OpenCart testimonials module enables the audience to gain trust in your store and increase sales conversion. Because of its features and existing customer rating. It also resides in the best OpenCart extensions.
As a business, we all know a word of mouth given by clients is much stronger and valuable for your website rather than just having fancy designs.
So considering an OpenCart testimonials slider or module for your online store will increase the worth and value of your website by 3x. It also boosts your front end design and scaling of your store with a value-driven OpenCart testimonial module by TMD
TMD testimonial module allows you to insert customer testimonials and have them appear on your website.
The testimonials will display on the front side of your website if you will enable them from the admin panel.
This module also lets you disable the option if you do not want to display it on the front side. Admin can select the disable option at any time on its own terms.
A blog module is an important part of any website, and for any e-commerce website, it is mandatory to have a blog.
Blogging enables organic traffic to the website so bloggers need a simple and effective opencart blog. It creates a platform to start blogging and promote any products or services related to their e-commerce business.
TMD advanced OpenCart blog pro extension is created to provide an effective blogging platform that is simple and easy to manage.
This blog has its own page for publishing posts where you can also set up your own template. You can add blogs and categories from the admin. And there are several other configurations and settings in the module like color setting. enable/disable options for title, write descriptions, social share icons, etc.
It also provides a dashboard for the admin to view the overall number of categories, posts, and recent comments to date.
The social login module is one of the popular for quick login to your website using the social media alternative. The OpenCart 3 social login is the latest version and release of this module.
Using this module by TMD will increase customers/users' registration and login by 168%
60 out of 100 website uses social login to get a new customer every day. Not because social login encourages a customer to login within 1 min but It prevents password remembering the problem. It is one of the best OpenCart extensions.
According to ConversionXL , social Login has 94 of websites offering social logins provided users with the option of using their Facebook account to login.
GooglePlus and Twitter were ranked second and third respectively. Nowadays, It is recommended to give an extra option to ease the signup process.
Social media shares are not easy if you do not have the appropriate share icons on your OpenCart store.
So how to add social media buttons in opencart?
Opencart social media extension aka social share improves the feasibility of your store on a product page if you embed social share icons to your OpenCart store. This is a very easy process as you refer to our documentation on the available module.
This module ensures that you are able to share your product to an endless number of social media sites and increase traffic to your product page and to your website.
Hence it increases the probability of sales and increases the conversion rate on your online store. This is another way of sharing your main website information whether a product or service. So your social media followers gain traction.
It keeps customers coming back to your store thereby increasing traffic by 10x and grabbing more traffic with the use of the TMD social share module.
TMD social share icons are created for the OpenCart store to enhance social sharing.
This social share icon allows you to make unlimited connections to your social media pages on your website.
You can link your Social icon as you want and display it either in the left position or toward the right (With a Fixed Position),  top or bottom.
And this module can be fully controlled by the admin to enable/disable these Icons from the back end of the admin panel if you do not want to show this in the future or at any point in time.
An OpenCart newsletter module allows the input of email addresses from customers & visitors to your website. Opencart 3 newsletter is also used for gathering and collecting subscribers who are interested in your product, offers, and services from time to time.

And it is often used as a newsletter subscription for the footer section on your website. This ensures that the OpenCart newsletter subscribes module is able to collect relevant email addresses for free and increase your subscribers.
This module will increase the list of subscribers in due course of time. It enhances the email marketing contribution to improving the email marketing campaign in your store.
Use the power of your subscribers as an audience anytime or on an occasion. Offer them values through emails and increase sales in your store. This is indeed a very powerful module that no OpenCart store owner should miss and is a must for every store owner.
Option Combination is one of the most sought-after modules for the apparel and footwear section.
This is because the range of products for this industry segment depends on a number of product option combinations.
The opencart option combinations module allows the administrator to define specific attributes for a product. The administrator can add different types of properties for a product such as COLOR, WEIGHT, MATERIAL, SIZE, etc. to any product.
This extension is also useful if your store has items with various properties and comes with a fixed price or price variation for different unique attributes of the same individual item.
So if your business is related to the apparel & footwear division or any other business area where you deal with a number of sizes and color variations for a single item then this is a must-have OpeCart module for your online store. We have written a detailed article where  you can find how-to and install information on OpenCart Option Combination extension
PDF Invoicing is one of the important formats of any sales Invoice design.
The PDF Invoice PRO module allows you to download a copy of the invoice for your customer or directly email a pdf invoice on sales.
I have PDF format and this OpenCart PDF Invoice PRO module enables you to present your sales and invoice copy as ultimate documentation. It is proof for your customer. Admin is able to generate an invoice an infinite number of times once the order is confirmed by the customers.
This usually saves time when an order is placed in the store. It automatically generates the invoice upon order confirmation. If the email is auto-configured the email of the invoice copy is fired to the user and admin in PDF content.
Customers can also download it from/her user account and the admin can also download it from their admin panel.
The search module in opencart is also a very useful module and a must-have OpenCart extension for scaling your store.
Your website should use it to give the best search results to your customers. You can say it is the best OpenCart module among all of them.

Also, known as the OpenCart ajax search module, this module will enable a great search experience on your website.

The TMD advanced search module for OpenCart. It is one of the must-have OpenCart modules which is again worth inverting a few dollars to integrate into your store. It drives the best search experience for your audience on the product and services that you offer.

Advanced OpenCart search module usually increases the retention of customers on your website usually when the searching experience is good.
The advantage of using this module is that when your customers are searching for relevant products or services in your store.
The essence of this module is they are able to find the products or services in terms of selected category or a product search with the relevant results shown on your website.
So this Advance Search module delivers the best search results and searches can perform in any combination of fields. OpenCart advance search module is always present in the best OpenCart extensions and loved by e-commerce store owners.
One page checkout module is also known as OpenCart Quick Checkout module.
It helps customers to have the checkout process in a much simpler and faster way. The default checkout process has a number of steps and different cart pages.
So TMD created OpenCart one-page checkout extension. It ensures that your checkout process becomes easier, faster, and much simpler. Which improves the user experience in your store and increases sales and revenues.
Quick checkout extension provides customers to view all processes of cart and checkout on one page, like login, coupon, and gift voucher ability to increase/decrease product quantity. And the ability to add comments during the checkout step.
So the user simply fills in all information of address and chooses delivery/payment methods on the same page. Rather than having to do a separate step for each.
It supports all the shipping methods and payment gateways used by Opencart that give consumers more payment options. These include COD, PayPal, PayPal Express Checkout, PayPoint, etc.
Get to know how OpenCart One Page checkout works. This article covers every detail which will help you to set up one-page checkout on your website.
PayU and EBS well know payment integration modules for OpenCart Stores.

The PayU payment gateway solution also known as OpenCart payubiz module is a connector between your OpenCart website and the PayU payment gateway. It processes payment transfers. This OpenCart PayUmoney extension plays a vital role in the e-commerce transaction process including authorizing the payment between merchant and customer.
PauUbiz and PayUMoney are two different payment gateway solutions that were created by PayU Payments Pvt. Ltd. company. Unlike other payment gateways, PayU solutions also play a significant role in payment solutions for e-commerce transactions across the globe.
As a module for OpenCart you can check for payumoney for OpenCart 3 version.
Whereas EBS is a new payment interface that facilitates online purchases from a merchant's website. It helps them to collect payment from the end customers through net banking, credit and debit cards, etc.
And It assembles the various online payment options offered onto a single platform with minimum technical integration with the merchant websites.
OpenCart EBS extension is easy to integrate into your online store.
This module provides an easy way to activate the module with your Account ID & Secret Key.
After an EBS system is integrated with your OpenCart store. Customers can avail of the payment option of EBS on the form during checkout.
Two factors are most important to verify the real user before login into the website.  This extension gives users to login into their account using their mobile number verification. It sends a 6-digit OTP code to the mobile number of the user.
The user does not need to remember the password. It also sends the SMS on many events like order status is changed by website, forget the password, affiliate account, and others. Admin also gets the new customer registration, and affiliate registration, new order.
SMS template can be written by the admin. Every event has its own template.
A big ecommerce website may have a larger number of products present. And Some time these product data are often linked with data sources such as product vendors, service providers, and others. This makes product entry harder. The website owner can use the OpenCart import product export extension to import and export the products. Products can be imported using the product id and model.
Also, A filter is present for exporting the products. It has more than 10 fields that could use to narrow down the product data to get what you are looking for.
BONUS:
Give Update To Website Using OpenCart Upgrade Module
Till now, OpenCart gave more than 8 updates to its software. It continually works to improve in all possible ways. Most store owners either use 1.5.x  or 2.2.3.x version.
They are not aware of the latest version features. A newer version of OpenCart has a lot of features in it. Updating a website is one of the toughest works for any website owner when their website running perfectly.
Their customers are happy and making a handsome profit from it. Nevertheless, giving an update to the website will speed up and ad some additional things which will ultimately help you. An OpenCart upgrade module will do all the work for you. It will help you to update your website to the latest version.
Moving your site from OpenCart 1.5.x to 3.0.3.3 version or 2.3.x to the latest version. you can also follow how to upgrade OpenCart website guide to get out of a hard time.
Why Should You Scale Your OpenCart Ecommerce Store?
When we talk about scaling an OpenCart store, it is all about improving the overall efficiency of your store.
This includes adding OpenCart Themes, modules, and extensions for functional as well as technical aspects of your store.
OpenCart is a popular open-source shopping cart solution to establish a fully functional online store from scratch in a very short time with intuitive screens.
OpenCart is simple to use & install and capable of scaling an e-commerce business with its various plugin and modules. Hence it enables small business and startup companies to gain hands-on experience in using and managing OpenCart.
It is helping you start with feature-rich, professional online stores easily increase user experience on the store and thereby generate profits and sales.
It also teaches you how to organize your online store effectively in terms of products, payments, shipping, orders, define taxes and apply them according to the geolocation of customer and customer relations.
Over To You In Conclusion
So if you are using an OpenCart store scaling your store. These best extensions for opencart will provide access to the store in a number of ways such as easy-to-use. An attractive online store with all integrated features that meets today's modern e-commerce standards.
Configure store settings, including welcome messages, currencies, languages, modules, themes, links, and so on. These are the best opencart extensions available to improve the website to get more engagement and increase sales.
Different payment models, including Bank Transfer, PayPal, Cash on Delivery, Money order, Authorize.net, and so on.
Apply product discounts, create coupon codes, and set special prices for sales in bulk. Manage orders and change statuses, print invoices, and so on.
Grouping and managing customers, sending e-mail newsletters, and so on.
Localize your online store by adding new languages, currencies, etc, and correctly upgrade your OpenCart system. Please let me know if you know of any other module which can be listed in the best OpenCart Extensions. Do not hesitate to write in a comment. we will check and add that to our list.
Recommended Reading: Top 10 Reasons to Choose TMD OpenCart Multi Vendor Extension